Spanish Worksheets - Free for educational use
Included below are various free printable Spanish worksheets (in PDF form) covering different aspects of Spanish grammar and vocabulary. You are free to print out and use these worksheets for your own personal use. Teachers, you may also use these worksheets for the classroom if you would like.
Table of Contents:
Expand your Spanish knowledge!
Grammar Worksheets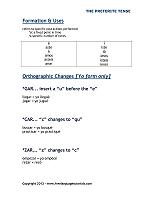 Grammar exercises
Vocabulary Worksheets